Dr. Maryam Jajouei, DVM

Founder

Veterinarian

Medical Director
Thank you so much for reading about me and Legacy Veterinary Clinic.  I am honored and excited to share my life story with you.
I was born and raised in Iran in a highly educated family.  I developed a huge love and respect for animals at a very young age. I always found myself bringing home injured street birds, cats, and dogs in hopes of saving them.
I finished my first bachelor's degree in engineering in my home country of Iran. At the age of 22, I moved to Canada with the dream of getting into veterinary school. This journey began for me as I finished my second bachelor's degree in animal science from the University of Dalhousie. I then moved to Calgary in hopes of being accepted to the University of Calgary Faculty of Veterinary Medicine (UCVM). My dream came true when I got the acceptance call for UCVM on a summer night of 2008. This set me up for a 4-year journey, leaving me with an invaluable learning experience ultimately leading to graduation with my DVM degree.
Post-graduation, I worked in both primary and emergency clinics in Calgary which taught me the importance and strength of the human-animal bond. I have always believed in providing pets with every possible option for good health. Therefore, in 2016, I began my journey of acquiring an education in alternative healing- so that I could give owners a choice in patient care. I received my certification in Veterinary Acupuncture in 2016 and this year (2018), I have become certified in Canine rehabilitation and physiotherapy. I own a loving and faithful mini golden doodle (Luna), and a kind standard poodle (Aida) who have been inspirations for who I am today. They have taught me to live mindfully without judgment and emphasized the importance of compassion and offering a helping hand whenever possible. I am blessed to be married to my best friend, Hamed, who you may see around the clinic, and I would not be here without him.
I strongly believe that every single animal deserves an excellent quality of life, and my goal is to use both conventional and alternative medicine to help your pets. I decided to open a pet-centric, stress-free, integrative clinic that creates the veterinary experience that I always wanted for my pets. At Legacy Veterinary Clinic, you can expect an open stress-free environment where you can ask any questions you want. I believe in offering many options for your pets, and respecting whatever decision you feel is best for them. It would be my honor to be your veterinarian, and I'm looking forward to meeting you soon.
Dr. Jennifer Flaig, DVM

Veterinarian
Dr. Jennifer Flaig graduated from the University of Calgary with a Bachelor of Science and later returned to the U of C to pursue her dream of becoming a veterinarian. She graduated with her Doctor of Veterinary Medicine degree in 2017 and spent the next year and a half in small animal practice in her hometown of Medicine Hat, AB. She moved back to Calgary in the fall of 2018 and spent the next 2 years working in a general practice clinic in the downtown core.
Dr Flaig enjoys kayaking, painting, computer games, and spending quality time with her long-time partner Jeff and their two cats, Zoe and Scooter.
Dr Flaig's areas of interest include surgery, dentistry, and wellness/preventative medicine. She is very excited to be a part of the Legacy Veterinary Clinic team and looks forward to meeting you and your furry family members!
Dr. Virginia Woo, DVM

Veterinarian
My passion for veterinary medicine grew from my desire to help those without a voice. Prior to coming to Legacy Vet Clinic, I worked at a small animal emergency hospital, a small animal general practice, and a wildlife rehabilitation center. I have also done internships at the Dallas Zoo and Mote Marine Laboratory and Aquarium. I have a special interest in wildlife medicine, as well as small animal surgery, emergency, neurology, and ophthalmology.
In my free time, you can find me hiking, camping, boating, and otherwise exploring the outdoors. I live with my American Eskimo dog (Summer), two cats (Lil Nug and Kasper), 1-year-old son, and husband. I am super excited to meet all of the wonderful clients and fur babies at Legacy Vet Clinic!
Brittany Hicks, RVT

Veterinary Technologist

Director of Medical Operation
Hey everyone! My name is Brittany, I have been an RVT since 2013, and I am so happy to have joined the Legacy Team as one of their RVTs!
I grew up in the teenie-tiny town of Wheatley, Ontario, which is where my love and passion for caring for animals began. My family lived on an acreage, and people from town would drop off their unwanted cats and kittens at our property. Although my parents weren't thrilled, I certainly was! I adored taming, feeding, and doing the best I could to take care of these abandoned kitties. This is where my parents nicknamed me "Mama B". In the summers, you could find me leading an assembly line of kittens to their food dish, cleaning the eyes and noses of the poor sickly kittens, or carefully brushing them and making sure they were free of fleas.
I am grateful and proud to have graduated from the Veterinary Technology program at Sheridan College in Brampton, Ontario. The program was actually the first CVMA accredited program to use animal models instead of real animals for learning and practice use.
Since graduating, I have worked the majority of my career in Emergency and Critical Care. I have always had a passion for intensive nursing care; seeing your fur babies recover after caring for them has brought my heart so much joy and fulfillment. However, there is another side to Veterinary Medicine that I enjoy greatly but was missing working in ECC; and that is spending one-on-one time with clients and patients to ensure they have a positive experience while getting the best possible care. I am so happy to be able to provide that special attention to you and your babies here at Legacy Vet Clinic!
I myself have four fur-babies. I have Athena (a sassy, Himalayan/Ragdoll mix), Papa John (a big Brown Tabby that enjoys making dough), Pumbaa (a hilarious Chocolate Lab), and Ullr (a snuggly Great Pyrenees). In my spare time, I love spending time with them or doing some of my favorite hobbies; crocheting, crafting, playing soccer, or working out at the gym.
I look forward to seeing you and your babies at Legacy Veterinary Clinic!
Riley Larsen, RVT

Veterinary Technologist
Hi, My name is Riley and I am a Registered Veterinary Technologist here at Legacy Veterinary Clinic. I graduated from Olds College in 2020! I was born and raised in Regina, Saskatchewan, and have been chasing my dreams of working with animals since I was 13. As soon as I graduated high school I was enrolled at Olds College, and upon graduating I found permanent residency here in Alberta.
Growing up I spent all of my summer working with horses where I developed my initial passion. I competed in both English and Western riding as a little girl but stepped back from riding when I was in high school. After college, I returned to the equestrian community and I purchased my first horse, Larry! Ironically, I did not end up working with horses and found my niche working in small animal medicine; however, in my spare time, you are most likely to find me out at the barn! At home, I enjoy my time with my dog Josie and my cat named Mable May who I rescued a year ago in Airdrie and she is the quirkiest lady who I love dearly.
I'm very excited to be a part of the Legacy Veterinary Team as I enjoy having the opportunity to build relationships with my patients and their owners. Making a difference in both your and your pets' lives is of the utmost importance to me and I am looking forward to getting to know you guys and build a lasting relationship here at Legacy!
Amanda Swanson, RVT

Veterinary Technologist
Hi there! My name is Amanda, I am a Registered Veterinary Technologist who graduated from Olds College in 2019. I was born and raised in Calgary, completing an Undergrad degree in Social and Cultural Anthropology at the University of Calgary before finding my passion in the Veterinary industry. I always knew that I wanted to work with animals but I believed I would find my love in animal research – I attended field school for my Bachelor's degree in Belize where I studied primatology but also discovered that research was not for me. I realized that I craved more hands-on experience with animals.
I started my career in Veterinary Medicine at a small Emergency clinic in reception/TA then as a Technologist when I finished my AHT diploma. I gained a lot of great knowledge and experience working with emergency and hospitalized cases but I did not get the opportunity to put my heart and soul into each patient and ensure each animal got the best care possible. I am very happy to be joining the team here at Legacy Vet Clinic because their commitment to the care and well-being of their clients is unmatched. I am lucky that I am able to provide every animal with the best quality of medicine and best experience possible – and I get to smother every cutie with hugs and kisses as well! I can't wait to meet you and your pets and treat them like my own animals.
I have 3 cats – Maverick, Goose, and Giovanni who are my sweet baby angels and I have a soft spot for Corgi's. When I am not working, I love creating (I dabble in needlepoint, macrame, clay, planting, painting, drawing, sewing, refinishing furniture, and many more), I love reading, and I love video and board games, and most of all I love snuggling my kitties! I hope to see you soon at Legacy Vet Clinic.
Yuko Sakamoto, RVT

Veterinary Technologist
Katherine Long-Jones

Client Care Specialist
Hello, My name is Katherine, and I am a Client Care Specialist here at Legacy Vet Clinic. I also help as a technician assistant, which means I get to interact with the wonderful pets we care for. I graduated from Robertson College's Vet Office and Technician Assistant Program in August, 2020.
I was born in the UK and moved to Canada when I was five. I went to the Alberta College of Art and Design and graduated in 2015 with a BA in Fine Arts. I love to travel and recently returned from teaching English in Japan for two years. Now that I'm back, I am dedicated to following the dream I have had since I was a child; taking care of animals. Since starting with Legacy Vet, I have had the wonderful opportunity of working with Dr. Maryam and her team. Everyone here is so passionate about the health of the animals, and I have already learned so much. In my role as receptionist, I look forward to greeting you all, answering your questions, and meeting your adorable pets!
Speaking of pets, I have a miniature dachshund named Sakura, and I recently adopted a Persian cat named Spring Roll. I have always loved critters of all types, and my dream is to one day own a duck.
When I'm not busy at work, I like to do creative things to relax. I love to sing, play the ukulele, crochet, and draw. My favorite thing to do in the world is taking a long nap. I'll see you and your pet next time at Legacy Vet Clinic!
Julie Andrusyshyn

Client Care Specialist
Hi there, my name is Julie. I'm extremely excited to be able to join the team at the Legacy Vet Clinic! Ever since I was a child I told people my dream job was working with animals. I graduated from the Veterinary Office Technical Assistant program at Robertson College in 2019 and then took some time off to travel. I volunteered at a spay and neuter clinic in Barra Navidad Mexico where I truly fell in love with my career choice.
I am the proud mom of 5 rescue animals, 2 dogs Moose and Sedrick, and 3 cats Luna, Tia, and Chives. I love all animals big and small and I can tell that working at a vet clinic I might be adding a few more to my growing family!
I can't wait to meet everyone and all of their amazing pets. See you at your next appointment
Jason Finnan

Client Care Specialist
Hi I'm Jason! I found my passion for working with animals during my undergrad Biology degree at the University of New Brunswick when I had the opportunity to do an independent study on wolves. Shortly after graduating and moving out west, I landed an intern position at Yamnuska Wolfdog Sanctuary in Cochrane, Alberta, leading guided tours about wolfdogs and wolves. The internship led to an exciting animal care job in Nova Scotia, so I moved to Dartmouth. I specialized in the care of abandoned domestic pets at Halifax's pound facility while simultaneously rehabbing injured wildlife with Hope for Wildlife. I adopted my first-ever dog, Casper, a senior palliative care boxer mix from the city pound. After Casper went over the rainbow bridge, I was ready to raise a puppy; a now 4-year-old Shiba Inu named Murphy.
After three years of managing the pound, I returned to Alberta, landing a job at the University of Calgary taking care of medical research animals. At the university. I took care of primarily rats and mice in several important medical studies, including monitoring breeding colonies. I switched roles assisting UCalgary's Veterinarian team as the SOP Coordinator. When the pandemic hit, my job was cut as a result of the government budgetary rollbacks; with this, I decided to re-focus my professional energy into veterinary medicine. My dream is to own and operate my own vet clinic. After taking a few months off, I spent the summer back at Yamnuska Wolfdog Sanctuary as a tour guide. In fall 2021 I joined the Legacy Vet Clinic team as an assistant and love to lead the morning stretches for the team.
Outside of work, I stay very physically active in the gym with weightlifting and in the rink playing hockey. I also volunteer as a hockey coach for beginner adult players. Additionally, I am an avid gamer; board game nights are a weekly thing and I have an extensive World of Warcraft gaming family. Furthermore, I spend lots of quality time with my partner and dog doing various activities. I am a big advocate for the local LGBTQA+ community and a big supporter of individual people's physical and mental wellness.
Brooklyn Calder

Client Care Specialist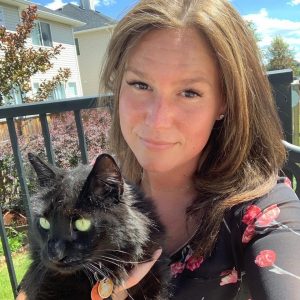 Samantha Aitken-Fisher

Client Care Specialist
Hi, my name is Samantha and I am a Client Care Specialist/Veterinary TA with Legacy Veterinary Clinic. I have been caring for critters and fur babies since I was a child and have chosen to continue this passion into my chosen career. I have been working in the veterinary industry for over 12 years in a variety of roles which has provided me with a wealth of experiences. I have had extensive involvement with direct animal care as well as wide-ranging experience in providing elite client care.
I was born and raised in Calgary, and I'm passionate about this city and the people that live in it. I spend my down-time with family & friends, working on my latest arts and crafts, traveling, as well as volunteering with local charities and causes that are near and dear to my heart. I currently have a polydactyl Maine Coon cat named Mittens and I was the proud mom to two Shih Tzu dogs named Rocky and Tiko who recently passed away. They lived to be 16 years old so I was lucky to have so much time with them. (although I still miss them every day)
I excel at providing exceptional client care and because I have had pets all my life, I relate with our clients on a very personal level. I treat our clients' pets as if they were my own and communicate in a clear and straightforward manner that resonates with clients when they are dealing with the stress of medical care related to their furry family members. I look forward to welcoming you to the Legacy Veterinary Clinic!
Ryleigh Deuel

Veterinarian Assistant
Ciao, everyone! My name is Ryleigh and I am the veterinary technician assistant here at the Legacy Veterinary Clinic. I have always loved animals but never owned any pets growing up. My mom thought four kids was more than enough chaos.
I started my journey of working with animals when I was 14, volunteering at my local vet clinic. At 16 I volunteered to wash dogs for a dog groomer. In 2016, I rescued my first dog, Ghost, a husky cross, from the Humane Society. Two years later I adopted Cozmo, another husky, so Ghost could have a brother.
After a few years of working outside the animal industry, I found myself out of work and looking for direction. On the suggestion of a friend, I started volunteering at the Legacy Vet Clinic. After a few months, they offered me a job. Working at the clinic has given me an opportunity to see all the different jobs available to me. I will be applying to go to school to study to become a Registered Veterinary Technician in the near future.
Jessica Burney

Veterinarian Assistant
Alyssa Borden, RVT

Fur-ever Founding Member
Alyssa is a fur-ever founding member of the Legacy Veterinary Clinic. She worked tirelessly alongside Dr. Maryam from July 2018 to May 2021 to establish the clinic as a start-up. During this period, she acted as the Assistant Medical Director and had a tremendous role in the development of the policies and procedures of the clinic. In addition, she ensured all the patients received the best care as she worked as a registered veterinary technologist. Alyssa's contribution greatly helped to shape the Legacy Veterinary Clinic the way everybody knows today: Always striving for the best patient and client experience.
Alyssa is a graduate of the Animal Health Technology program from NAIT in Edmonton, Alberta. She has a wealth of experience in both primary and emergency veterinary care. She enjoys her time with her Bernese Mountain dog, Ronnie, and her little grey cat, Foster. Ronnie, depicted on the left, is also a furry fur-ever member of the Legacy Veterinary Clinic. She spent most of her time in the clinic from 2018 to 2021 making sure all staff kept calm and devoted to providing the best care to the furry patients.
We wish Alyssa the best in all her endeavors.